KUALA LUMPUR: Forbes Asia's esteemed annual compilation, "Best Under A Billion 2023," has recently spotlighted the achievements of nine outstanding Malaysian companies.
The comprehensive list, featured in the August 2023 edition of Forbes Asia, proudly showcases the Malaysian entities that have met the stringent criteria.
Among these remarkable companies are Frontken Corp Bhd, Greatech Technology Bhd, Harbour-Link Group Bhd, Kim Loong Resources Corp Bhd, QES Group Bhd, Scicom (MSC) Bhd, Thong Guan Industries Bhd, Uchi Technologies Bhd, and ViTrox Corp Bhd.
The list recognizes 200 Asia-Pacific public enterprises with revenues under US$1 billion (approximately RM4.57 billion) that have displayed consistent growth in both their top and bottom lines. Forbes Asia said this year's annual Best Under A Billion list recognizes 200 small and midsized publicly traded companies in the region that outperformed despite stiff global headwinds like inflation and rising funding costs.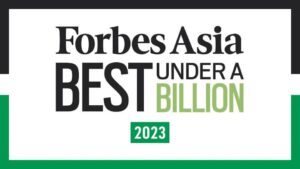 This story was part of Forbes' coverage of Asia's Best Under A Billion 2023, which highlights 200 Asia-Pacific public companies with less than $1 billion in revenue and consistent top and bottom-line growth.